2013 Moose Resorts NCAA Tournament Pool
---
---
4/9/13 7:05am - And that's a wrap. A very competitive final game gave the Michigan side a lot of hope, but when the threes started raining down at the end of the first half things moved the Cardinals' way, and Louisville was able to hang on. Congrats to our winner, Shamgod2, who was the only person to correctly predict the final game matchup and its outcome. He takes home a nice chunk of change for his efforts. Lisa Kawiecki rode her fantastic early-round picks to a second place finish. Jay Hilby 1 fared well in the tiebreaker and was able to cash in on one of the six scenarios that cut him a check after putting together two good sets of picks, and Greeny23 collected a check for the second straight year and the third time in the last five.
If you're a winner and you haven't sent me your address already, please do so and I'll get the check in the mail to you ASAP.
In the final standings, the tiebreaker has been applied to every spot in the order, so you can see exactly how you fared. For some reason the software doesn't seem to know how to handle tiebreaker ties (for example, seventh and eighth place should still be a tie after the tiebreaker is applied), so I guess it just picked one. All the brackets are still available for viewing.
And that wraps up another pool year. Thanks for playing. I'll see you back here on Selection Sunday, March 16, 2014, for the Fifteenth Annual Moose Resorts NCAA Pool. Until then, I'll see you on the golf course.
---
4/6/13 11:40pm - And then there were two. After two very good games, it's down to Shamgod2 (a reference to former Providence College hoops star God Shammgod) and The Pride of Texas, Erica E. Good luck to you both. Shamgod2 has guaranteed himself at least 4th place. Everyone else who's still alive for a prize needs a specific outcome to cash. Seven entries hoping for some cash this year, and 198 entries waiting for redemption in 2013. Or waiting for a Masters pool. Or swearing off pools for life. Take your pick.
Next update Tuesday morning. Good luck everyone.
---
4/1/13 7:00pm - The last checks came in, so barring a bounce (something that has not happened in pool history) the prize pool is fully funded and official. Thank you to all for another successful collections season!
---
3/31/13 7:30pm - And we're down to four teams remaining. First, best wishes for a full recovery to Kevin Ware. I wouldn't wish that type of injury on my worst enemy. Getting to the pool, the fact that three of the Final Four teams didn't get much love from the pool means that there are fewer entries than usual alive for a prize. Only 13 of you still have a chance to cash. Six have a chance at the top prize. The payouts for each scenario are listed in the table below. You can see where you'd finish in any of the eight possible remaining scenarios by going to the "what-if" scenario pages in the standings. Erica E. and Jay Hilby 3 have the best chance of cashing, each with a cash in half or more of the potential outcomes. Jay Hilby 1 is also alive, so I'm guessing it's a good day to be Jay Hilby (like it ever wouldn't be). Good luck to all of you who are still alive. We're down to $50 uncollected, so an even $2000 of the prize fund is guaranteed to date. I'll keep you posted on collections. They should all be in the mail now, and hopefully I'll have them all tomorrow.
Have a good week, and go UConn!
Scenario #1
Louisville over Wichita State
Michigan over Syracuse
Louisville over Michigan

1st Place - 106 - Shamgod2
2nd Place - 99 - Lisa Kawiecki
3rd Place (tie) - 97 - Jay Hilby 1 (tiebreak: 140)
3rd Place (tie) - 97 - Greeny23 (tiebreak: 138)

Scenario #2
Louisville over Wichita State
Michigan over Syracuse
Michigan over Louisville

1st Place - 103 - Erica E.
2nd Place - 99 - timmal1
3rd Place - 95 - Bob Salo
4th Place - 90 - Shamgod2

Scenario #3
Louisville over Wichita State
Syracuse over Michigan
Louisville over Syracuse

1st Place - 99 - Lisa Kawiecki
2nd Place (tie) - 97 - Greeny23 (tiebreak: 138)
2nd Place (tie) - 97 - Jay Hilby 1 (tiebreak: 140)
4th Place - 96 - Ross Lamy 1

Scenario #4
Louisville over Wichita State
Syracuse over Michigan
Syracuse over Louisville

1st Place - 90 - Bryan Cauley1
2nd Place - 89 - Jay Hilby 3
3rd Place (tie) - 83 - GO BLUE2! (tiebreak: 123)
3rd Place (tie) - 83 - Lisa Kawiecki (tiebreak: 141)

Scenario #5
Wichita State over Louisville
Michigan over Syracuse
Wichita State over Michigan

1st Place - 87 - Erica E.
2nd Place (tie) - 79 - Bob Salo (tiebreak: 126)
2nd Place (tie) - 79 - Shamgod2 (tiebreak: 119)
4th Place - 78 - Jay Hilby 3

Scenario #6
Wichita State over Louisville
Michigan over Syracuse
Michigan over Wichita State

1st Place - 103 - Erica E.
2nd Place - 95 - Bob Salo
3rd Place - 88 - timmal1
4th Place - 82 - Ball so hard Bernie wanna Fine me
Scenario #7
Wichita State over Louisville
Syracuse over Michigan
Wichita State over Syracuse

1st Place (tie) - 78 - Jay Hilby 3 (tiebreak: 130)
1st Place (tie) - 78 - Bonds R Us (tiebreak: 136)
3rd Place - 76 - Erica E.
4th Place - 74 - Bryan Cauley1

Scenario #8
Wichita State over Louisville
Syracuse over Michigan
Syracuse over Wichita State

1st Place - 90 - Bryan Cauley1
2nd Place (tie) - 78 - Jay Hilby 3 (tiebreak: 130)
2nd Place (tie) - 78 - Bonds R Us (tiebreak: 136)
4th Place - 76 - Erica E.

---
3/30/13 10:30pm - Apologies again, this time for the late update. It would've been more timely, but the restaurant where we had dinner in NYC was brutally slow, causing us to get home late. Their Zagat/Yelp/TripAdvisor ratings will be suffering shortly if I have anything to say about it.
Anyways, some good basketball today. Wichita State's enormous upset busted every single Western region bracket. No one correctly predicted them playing in Atlanta next weekend. Only nine people had Syracuse making the Final Four. So, not a lot of movement today. However, the elimination of Ohio State did give us enough clarity to eliminate ten brackets from contention for the top spot. Now, only 13 remain. Bryan Cauley1 has the most chances to win the top prize, with nine out of the remaining 32 scenarios giving him the big check. Oddly, this UConn grad may be the biggest Syracuse fan in the state right now. Temple of Doom is in first place, but only has two ways out of 32 to win.
About an hour or two after the conclusion of tomorrow's games I'll post all the potential outcomes remaining, and if you're alive for a prize you'll know exactly what you need to happen at that point. Good luck, happy Easter, may the Force be with you, etc. etc. etc.
---
3/30/13 8:20am - My apologies to those who checked in before 8:20am this morning. I had inadvertently clicked FGCU at 12:45am last night when fatigued instead of waiting until morning like I usually do. The standings are correct now. If FGCU still shows as having won on your browser just hit refresh. 23 entries still alive to win.
---
3/29/13 8:00am - Indiana's loss drastically thinned the field, with about half the entries who were alive to win first place at the beginning of the day being eliminated from top prize contention. Miami's loss also shook things up a bit. It's now down to 65 entries (31.7%) to win overall, and 123 entries (60.0%) to win any prize. My condolences to the 40% who are now waiting for 2014.
I've now heard from everyone who hasn't paid and have been promised the check is in the mail. Assuming that's accurate, we should have a full prize fund this year.
Good luck with tonight's games. By tomorrow morning we will have reduced the 2,048 potential outcomes remaining to 128, and will probably be under 20% of entries with a chance to win. Enjoy the games.
---
3/28/13 6:30pm - Down to 6 unpaid. I've heard from five of them, and am convinced those entries are on the way. If we go down to 204 entries third place will go down by ten dollars from $210 to $200.
---
3/27/13 10:10pm - Down to 11 unpaid. Seven of those entries have contacted me and I'm sufficiently convinced the entry fees are on their way. The other four of you need to pay up, or at the very least contact me to know it's on the way or risk banishment from this and future pools.
---
3/26/13 6:25pm - Today's entry fees have been processed. Got half of the outstanding entry fees today, so we're down to 19 unpaid. The rest of you, if you haven't contacted me already please do so soon.
---
3/25/13 8:50pm - Sheets have been updated with payments received through today. 166 entries paid, 39 to go. Too early to start talking about effects on the prize pool. Hopefully your check is in the mail if you're not marked as paid. Expect the nastygrams to pick up if payment isn't received by Wednesday.
Also, check out this entry. rswilling92 picked the entire South regional correctly to date. 12 for 12. Amazingly impressive, especially when you consider he needed to pick Florida-Gulf Coast to win twice. Kudos.
---
3/25/13 6:00am - Not much in the way of upsets yesterday, but a lot of great basketball games nonetheless. Unlike Saturday, a lot of games went to the wire. There's a tie for first place at the top of the pool, with Lisa Kawiecki and Gwood123 taking the top spot. Four entries have a maximum possible top score of 139 to lead the pack of potential scores.
The Possible Outcomes report is now live. If you go to the drop-down menu at the top right of the standings page and select the possible outcomes report, you can see if your entry is still alive for a prize. Amazingly, 63.4% of entries can still take the top prize. That's a record by a wide margin for this point in the tournament. Only 16.1% of the entries are completely eliminated. Also, a quick reminder, the percentage listed next to each outcome is the percentage of potential outcomes that result in a win. Each potential outcome is weighted equally, whether it has Louisville winning or La Salle.
Last but not least, thank you if you've paid. If it's in the mail, thank you for that too. If you haven't done either, please send payment today. I'll update the payments on the site daily.
Have a great week, and check back here Thursday night for updates.
---
3/24/13 2:50pm - Seriously, call Kenny Loggins 'cause Ohio State and a ton of entries were in the
but the major upset was averted. We'll see what the rest of the day brings.
---
3/24/13 8:30am - Well the evening session was certainly more exciting than the first five games. Marquette survived again, and our first number one went down. Gonzaga's exit means that 14 brackets were busted, and 60 entries lost one of their Final Four teams. A lot more people had Ohio State winning the West so that region's pool favorite is still in. 91 entries have Ohio State making the Final Four, and only four entries have one of the other four remaining teams in that region combined.
RJ three holds on to the lead for the third consecutive day, trying for a wire-to-wire win. Once the second round is finished (no matter what the NCAA says today's games are part of the second round, not the third), I'll be able to have the software crunch through all 32,768 remaining tournament secenarios, and by tomorrow morning you'll be able to see if your entry is still alive for a prize or not. Good luck.
---
3/23/13 9:05pm - Zzzzzzzzzzzzz. Five straight games with twenty-point margins. Not a lot going on with respect to the pool. Waiting for a big upset. (That jinx worked yesterday, maybe it will do so again.)
---
3/23/13 2:50pm - All payments received in today's mail have been processed, and the paid/not paid column on the standings page is up to date. 71.2% (146/205) of the entries are now paid for, and many of you have told me the check is indeed in the mail. If payment is on it's way, thank you. If you haven't yet sent the check, please get it in the mail first thing Monday morning, or consider paying me via PayPal.
---
3/23/13 8:25am - With the first thirty-two games in the books, everyone's brackets have some issues. 26 out of 32 was good for sole possession of first place (nice work RJ three). Gwood123 holds the bracket with the highest potential score.
---
3/22/13 9:15pm - Ask and ye shall receive! Georgetown's defeat at the hands of a school none of us have ever heard of has done some real damage. What. A. Game. 49 people had Georgetown in the Final Four, and 9 people had them winning it all. That means ten brackets are now totally busted (9 for Georgetown, 1 for Oklahoma State), and the pool is a little less wide open than it was before. The award for worst bracket goes to Matthew Olsen #3 (yay me!) for predicting a Georgetown-New Mexico final.
---
3/22/13 7:15pm - 12 entries had Kansas State in the Final Four, but no one had them winning it all. While a 13 beating a 4 is always a good upset from a tournament perspective, we still don't really have any big upsets that have affected a lot of entries. It's still wide open.
---
3/22/13 5:40am - The first big upset of the tournament, Harvard's defeat of New Mexico, means there are no longer any perfect brackets on the board. 22 entrants had New Mexico going to the Final Four, and three had them making the final. However, besides that there just wasn't all that much damage to a lot of Final Four picks (save for the one poor soul who picked Oklahoma State to win it all). It's still wide open right now. There are two entrants who managed to correctly predict 15 out of yesterday's 16 games, RJ three and Lisa Kawiecki. They have the honor of holding the lead on day one, which I believe only one person in thirteen years has been able to parlay into a pool win.
In past years, a tame first Thursday generally means a wild first Friday. Enjoy today's games.
---
3/21/13 5:45pm - I wrote a big analysis of the Marquette upset at the hands of Davidson. Then it didn't happen. If you're looking to blame someone for jinxing that, I think I'm probably guilty. Thirty brackets are still perfect through six games.
---
3/21/13 12:10pm - And with the entry period closed our final tally is 205 entries. Assuming every entry pays, first prize will be $1330, second prize will be $410, third prize will be $210, and fourth prize will be $100.
All entries can be found in one big PDF file here. Sorry they're not in alphabetical order, but the file is serachable. Click on the standings to find individual entries more easily. Check your entries ASAP and let me know if you find any problems immediately!
---
3/21/13 11:10am - Just hit 200. That puts first place at $1300.
---
3/21/13 9:55am - 186 entries so far, topping last year's total.
---
3/21/13 6:05am - 169 entries.
---
3/20/13 9:10pm - At 152 entries. That gets first prize to $1,000 assuming everyone pays.
---
3/20/13 5:45pm - Some people aren't getting their entries through because, while my web site may not be blocked, the web site hosting the database of entries is blocked. Sorry. I don't have a workaround except to enter from a computer on a different network. Send me an email if you continue to have difficulties entering.
---
3/20/13 1:00pm - Quickest we've ever gotten to 100 entries. A quick note: a lot of people are saying they aren't getting the confirmation emails. Please check your spam/junk mail folders. The format of the email triggers a lot of anti-spam filters. Sorry. If you saw the confirmation web page you should be okay, but if you still need confirmation that your entry was received just drop me an email.
---
3/20/13 8:45am - Totally agree with Scott Van Pelt here.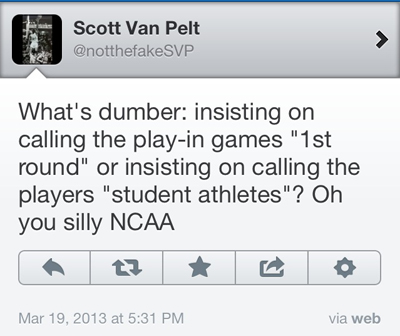 If last year's Wednesday night/Thursday morning entry trends repeat we'll be over 200 this year (fingers crossed).
---
3/19/13 9:20pm - I love this pool idea on Grantland if anyone wants to enter another pool. The more pools the merrier.
Pool entries are progressing nicely. Already over 70 which is more than usual for a Tuesday night. Should be a good turnout.
---
3/18/13 7:10pm - The pool has reached a new milestone! For the first time in fourteen years I hear the website has been blocked by my former employer! That makes me feel popular. I'm touched. If you work for that company (and a lot of you do) please make sure to enter before you go to work on Thursday. Thank you.
---
3/17/13 8:00pm - Welcome to the 14th annual Moose Resorts NCAA Basketball Pool. I expect approximately 175-250 entrants this year, which would yield a first place prize of over $1000. Full details and rules are in the Frequently Asked Questions, but here are the highlights:
$10 per entry (enter as many times as you want, but give each entry a unique, PG-13 or tamer name).
Click on the above link to fill out your entry online.
Remember to include your real name and email address in the right spots on the entry form. Only your entry name will show up on the website.
65% for 1st place, 20% for 2nd place, 10% for 3rd place, 5% for 4th place (values may be rounded, but 100% of entry fees will be paid out as prizes).
We are not picking the "First Four" games. You can wait until those games are over if you choose, or you can just fill out the bracket now and if you pick the winner of a play-in game to advance past their next opponent, you'll get points no matter which team advances.
Please put your check in the mail ASAP for your entry fees, sending them to address redacted. Make sure you include the names of the entries the check is paying for somewhere in your correspondence. Checks must be in the mail by Thursday!!!
Picks must be submitted and time stamped before 12:00 noon EDT Thursday, March 21st or they will not be accepted.
Don't forget to fill in the tiebreaker!
The points per round are 1, 2, 4, 7, 11, 16.
---
If you're new to the pool, and want to see what the pool page looks like, here's last year's pool.
---
Questions? Email me here.
---